Welcome to the Citrus Wiki
---
Welcome to the Citrus Wiki! This wiki is about the manga Citrus, created by Saburo Uta. Anybody can edit and create articles here! So, please help us in any of our articles!
239 articles since November 2014
What is Citrus?
---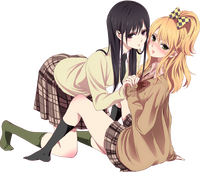 Citrus (シトラス, Shitorasu?) is a Japanese yuri manga series written and illustrated by Saburo uta. It has been serialized in Ichijinsha's Comic Yuri Hime since November 17, 2012. It has been licensed by Seven Seas Entertainment for a printed release in North America on December 16, 2014. Yuzu, a fashionable teenager, transfers to a quaint and conservative girl's school after her mother remarries. She encounters Mei, the beautiful student council president and grows to dislike her stern attitude. At the end of the day, Yuzu comes home only to meet Mei again-- she's her new step sister. The girls struggle with their relationships and battle their feelings of love and hate.
Affiliations
---
News
---
(March 17) A teaser site and a twitter account were made for the Citrus anime.
The sixth chapter,of the spin-off Plus chapter 6 came out on June 18th 2019, in the August 2019 issue of Comic Yuri Hime.
Citrus Plus volume 1 to be released on the 18 of November.
The English version of Volume 10 will be released on July 23, 2019.
A 12-episode Anime television series adaptation by Passione aired between January and March 2018.
A spin-off manga titled Citrus Plus began serialization in December 2018.
Twitter
---
Let's take a Poll!
---