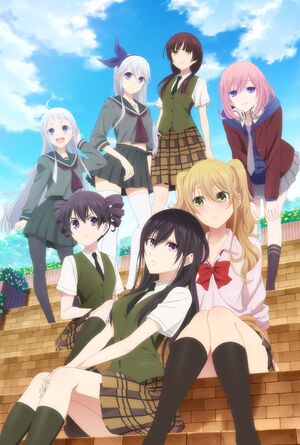 An anime adaptation was revealed on November 15th, 2016, but no other information was given.
[1]
On March 17, a teaser site was opened for the anime, which also had a panel in AnimeJapan 2017 on the same day. On the 25th of the same month, the website released a visual, seen in the right. The main voice cast was revealed on June 15, 2017, with only Matsuri's voice actress not returning from the PVs and Drama CD.[2]
On September 1st, 2017, the first PV was released, revealing Maruta's voice actress and that her given name is "Kayo", along with the anime's staff and a January 2018 premiere.[3]
On November 16th, 2017, the anime's official website was updated, adding a page with the already-revealed cast and crew, along with newly-revealed voice actors for Sara, Nina, Shō, and Yuzu's mother (revealed to be called Ume).[4] On November 16th, 2017, it was revealed the series will air on January 6th, 2018.[3]
Two days later it was also revealed that the opening theme will be called Azalea, performed by nano.RIPE, while the ending will be called Dear Teardrop, performed by Mia REGINA.[3]On December 3rd it is revealed the adaptation will cover until volume four. Crunchyroll is currently simulcasting the series, while FunimationNow will stream the English Dub starting Thursday 25th January, 9.00pm GMT.
Episodes
| No. | Episode Title | Original Airing Date | English Airing Date |
| --- | --- | --- | --- |
| 1 | Love Affair!? | January 6, 2018 | January 25, 2018 |
| 2 | One's First Love | January 13, 2018 | February 1, 2018 |
| 3 | Sisterly love? | January 20, 2018 | February 8, 2018 |
| 4 | Love Me Do! | January 27, 2018 | February 16, 2018 |
| 5 | under lover | February 3, 2018 | February 22, 2018 |
| 6 | out of love | February 10, 2018 | March 1, 2018 |
| 7 | love or lie! | February 17, 2018 | March 8, 2018 |
| 8 | War of love | February 24, 2018 | March 15, 2018 |
| 9 | love is | March 3, 2018 | March 22, 2018 |
| 10 | Winter of Love | March 10, 2018 | March 29, 2018 |
| 11 | Love You Only | March 17, 2018 | April 5, 2018 |
| 12 | my love goes on and on | March 24, 2018 | April 12, 2018 |
Voice Cast
Staff
| | |
| --- | --- |
| Director | Takeo Takahashi |
| Series Composition | Naoki Hayashi |
| Original creator | Saburo Uta |
| Character Design | Izuro Ijūin |
| Chief Animation Director | Izuro Ijūin |
| Production | Infinite |
| Music Production | Lantis |
Gallery
Promotional Art
Character Designs
Videos
Twitter Images
References
↑ 2.0 2.1 2.2 2.3 2.4 2.5 "Citrus Yuri Anime Casts Ayana Taketatsu, Minami Tsuda, Yukiyo Fujii". Anime News Network
↑ 3.0 3.1 3.2 "Citrus Anime's 1st Promo Video Reveals Staff, More Cast, January Premiere". Anime News Network. September 1, 2017. Retrieved September 1, 2017
↑ 4.0 4.1 4.2 4.3 4.4 "Citrus Anime Casts Hisako Kanemoto, Rei Matsuzaki". Anime News Network. October 16, 2017. Retrieved November 22, 2017
↑ "Citrus Anime's 1st Promo Video Reveals Staff, More Cast, January Premiere". Anime News Network. September 1, 2017. Retrieved September 1, 2017